Since its establishment in 1995, "BARRIER FREE" has been expanding its scale and leading the healthcare industry as one of the largest exhibition in Japan.
In addition, "Post-Acute Medicine Fair" is gathering attention since this is the only specialized exhibition in Japan focusing on the medical care for elderly people such as treatments for demented patients and end-of-life care.
Every year, many buyers and people involved in this industry, gather here for new business opportunities.
As the percentage of aging population increases, the demands for "Home nursing" and "Visiting nursing" are increasing. Of course, it is the same for Japan. In keeping with this trend, in 2016, the new exhibition, "NURSING NEXT" for people involved in nursing has been newly established!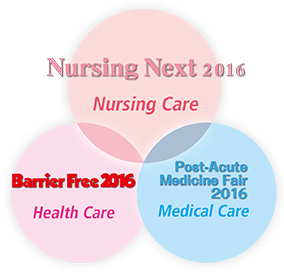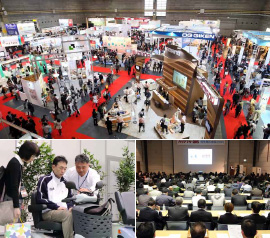 During the exhibition period, special seminars are offered, and many healthcare professionals are gathered.
The health care market of "Japan," which has the highest aging population rate in the world, contains many business opportunities that you may not know yet.
It has been said that the aging population in the world rapidly increases in the next 50 years. Participating BARRIER FREE, Post-Acute Medicine Fair, and NURSING NEXT will become the important milestone for developing your business in the global market!
You can meet Professional Buyers
Abilities Care-Net, Inc.
Asahi Kasei Fibers Corporation
Bridgestone Diversified Chemical Products Co.,Ltd.
Daimaru Matsuzakaya Department Stores Co.Ltd.
DUSKIN CO., LTD.
GUNZE LIMITED
Hankyu Hanshin Department Stores,Inc.
Hitachi Maxell, Ltd.
KOKUYO Co.,Ltd.
Marubeni Intex Co.,Ltd.
Mitsubishi Electric Corporation
Mitsui & Co. Plastics Ltd.
MIZUNO Corporation
Nippon Care Supply Co., Ltd.
NISHIKAWA LIVING, Inc.
Olympus Corporation
PARAMOUNT CARE SERVICE CO., LTD.
SHOWA BOEKI CO.,LTD.
TORAY INDUSTRIES, INC.
YKK AP Inc.

and many more ....